Pueblos Magicos: The 6 Magical Villages in Mexico
It began as a government-sponsored promotion to promote Mexico's rich and diverse cultural heritage to lesser-known areas of the country by calling Mexican villages "Pueblos Magicos. Without this program, most tourists would miss out on these places, which would be a shame. Below are some reasons you should at least consider visiting these six magical villages if you are backpacking in Mexico. Ready to expand your backpacking itinerary?
1) Taxco
If you love beautiful jewelry, especially silver, you should visit Taxco in Guerrero. Taxco was a place where a lot of silver was mined, which is why it became a silver city. As evidence of this, there are endless rows of stalls and stores selling silver. This is a place where you can walk around for hours looking for souvenirs. These are the cheapest at the stalls, and you can only find better quality in the stores. In addition to admiring the jewelry, the city itself is beautiful, with its cozy and lively streets, numerous churches, and historical buildings.
2) Tequila
Yes, there's a place called Tequila in Mexico. It is the center of tequila production, and the drink is named after this place. A visit to Tequila is completely dedicated to this and includes a tour of an agave plantation (the plant from which tequila is made), a look at how tequila is made, and of course lots of tequila tasting. If you think there is only one species, you are wrong. Tequila comes in many different varieties and flavors, and different types of liquors are also made from agave.
3) Chiguahuapan
Chignahupan is the place to be for Christmas. According to the official description, they specialize in handicrafts, especially Christmas decorations. This is because when you get off the bus, you will be amazed to see Christmas decorations everywhere. From Christmas baubles to nativity scenes, from wreaths for the tree to stalls with Christmas bubble earrings. And they do it all year round. Why exactly? That's not clear. That's just the way it is here.
4) Atlixco
Another Christmas-friendly store has arrived on the scene. That's because, in anticipation of the festive season, Atlixco has decorated the streets with life-size, luminous inflatable figures that can be admired as you walk by. You can feel like you are walking on a merry-go-round, but you can also easily spend the evening sipping mulled wine or Mexican beer. Outside of the Christmas period, it is a lovely place to visit, with beautiful colorful streets decorated with flowers (Atrixco is the most famous) and rich cultural history.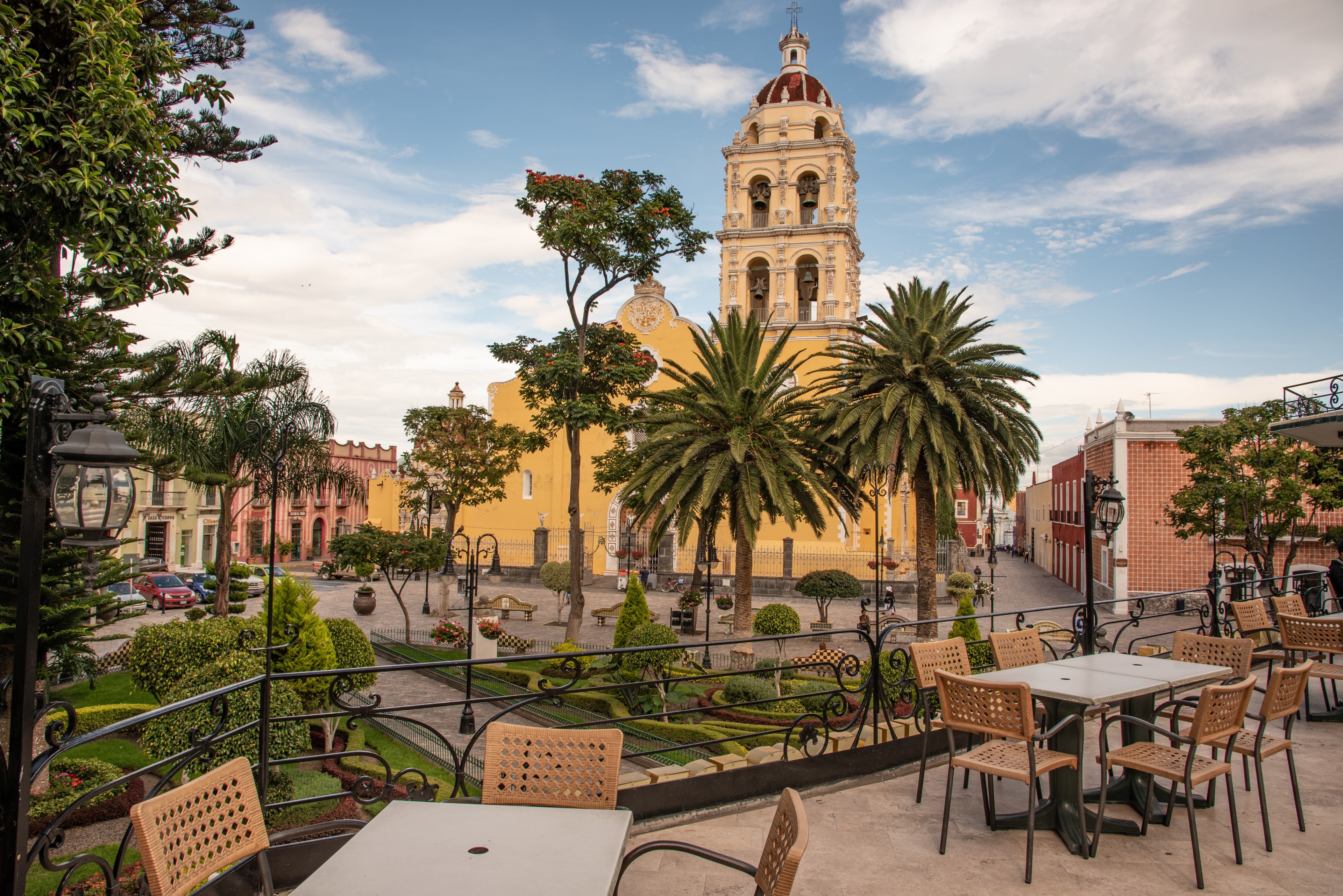 5) San Cristobal de las Casas
San Cristobal is one of the most famous pueblos magicos in Mexico, it would be hard to leave it off this list. The city has a unique atmosphere because a large portion of the population belongs to the Mayan culture. San Cristobal is also a beautiful and colorful city, with bars and cafes serving the region's hot drinks: coffee and hot chocolate. Also not to be missed is San Cristóbal's surroundings filled with beautiful mountains.
6) Cholula
Cholula is home to the second-largest pyramid in the world. It cannot be seen from the outside and is marked by the church built on top of the pyramid, but it is possible to visit the inside and be told of Cholula's important place in the Aztec Empire. In addition to this history, Cholula also has a modern side. This is because it is a real student town with trendy cafes and restaurants, and there is plenty of street art to be discovered on a bicycle ride.
Have you ever been to any of these places? Share your experience with us in the comments below!