Places You Wouldn't Want to Miss When Traveling to Chicago
Chicago is the most populous city in Illinois and one of the most exciting and charismatic cities in the United States. Chicago has much to offer to the traveler, who can walk among impressive skyscrapers and do many activities and enjoy the art, music, and history that it treasures.
One of those places that leave no room for boredom, Chicago is the third-most populous city in the country. So if you are wondering what to see and do in Chicago to make your visit worthwhile, keep reading! Below, we've gathered a list of things you should absolutely do when traveling there.
Millennium Park
Anyone who goes to Chicago should take a picture at Millennium Park. There, you will get to see the famous "Feijão", commonly known as The Bean, or Cloud Gate. This monument is an impressive work of art renowned for its grandeur and perfection.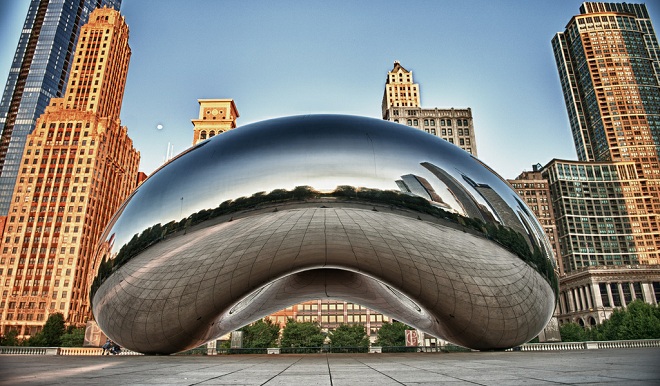 But Millennium Park is much more than that. There, you will have the opportunity to go to the incredible Pritzker Pavillion, which is home to several shows, theater, and cinema.
Another interesting artwork that you can observe at Millennium Park is The Crown Fountain, which consists of two walls with water fountains. These walls have a glass brick face with screens that show the faces of local residents, and sometimes the water even comes out of the person's mouth.
Skydeck / Willis Tower
The Willis Tower (formerly Sears Tower) is another must-visit. This was the tallest building in the world for 24 years. That's where the famous Skydeck is, which are glass platforms (cubes) outside the building. The building is 44 years old, with 108 floors and 527 meters high with its antenna. From the tower, you see the whole city, and some say that when you are at the top and if the sky is very clear, you can also see the other side of Lake Michigan.
Chicago River Architecture Tour

When traveling to Chicago, you should not miss taking a boat trip on the Chicago River, where you will be able to admire the impressive architecture of the city. After your tour, you can discover more places on foot, while doing a small stroll on the beautiful sidewalks of the river bank.
Grant Park
Another must-see park is Grant Park. In the midst of the beautiful gardens of Grant Park, there is the Buckingham Fountain, one of the largest fountains in the world!
Found in a very large square overlooking the buildings and Lake Michigan,
Buckingham Fountain is magnificent with its numerous water outlets and is completely worth the visit.
Another highlight of Grant Park is the work of art Agora. In it, a Polish artist designed human figures without heads and arms. There are 106 pieces of iron 2.7 meters high and more than 800 kg each. The artist once explained that it symbolizes human beings who do not think, but who "act and hate" under command, making an allusion to wars.
Navy Pier
As in Chicago, it is easy to find, but also miss, an attraction, as almost everything is close, we recommend that you do not miss the opportunity to visit Navy Pier.
Undeniably one of the city's top amusement parks, Navy Pier harbors the world-renowned Ferris wheel. On this pier, which was once the largest in the world, you will find theater, restaurants, bars, Children's Museum, boat trips, and great photo angles. If the temperature is suitable, we recommend that you buy one of the great special beers and stroll down the pier.
Since you now know the places that you should totally visit during your stay in Chicago, you are sure to have a memorable time in this city. So don't wait; start planning now, and remember to come back and leave us a comment below to share with us how your trip went.