8 Delicious Dishes to Try in Berlin
Traveling to Berlin is also enjoying typical Berlin and German cuisine. Popular delicacies such as currywurst sausage, Berliners, the ubiquitous potato, meat stews, without forgetting the beer! Here are some dishes that you shouldn't miss during your trip to Berlin!
1) CURRYWURST
One of the most typical dishes in Berlin is currywurst. Everywhere you will find a street vendor or kiosk where you can try these sausages sliced into small pieces with fries or a sandwich. The secret lies in the sauce, which mixes ketchup, Worcestershire sauce and sprinkled curry. It was an invention of Herta Heuwer in 1949, in the middle of the war. Bored because there were no customers at her stand near Charlottenburg, she tested the curry that a British soldier had given her. The dish was delicious and is so famous today that it even has a museum dedicated to it!
2) BOULETTE
If there is a typical dish in Berlin's pubs, it is the boulette, with Soleier (pickled eggs). Some define this food, which would have a French origin, as a cross between meatball and hamburger. It is prepared with beef, parsley and onion, and fried. Ideal to accompany a beer, it has its multicultural variations such as Italian or Asian. You already know what to eat in Berlin when you go to a bar one night!
3) DONER KEBAB
Due to the Turkish immigration that Germany has received, Berlin is full of places to eat falafels, shawarma, and of course kebabs. The Berlin adaptation of the traditional Turkish kebab seems to go back to the '70s and is very popular. So during your trip, you should try this pita roll filled with meat with herbs, salad, and yogurt sauce.
4) BERLINER PFANNKUCHEN
Among Berlin's traditional food, this is sweet, which used to be eaten at carnival and New Year's Eve. It is a fried sandwich, similar to a donut, filled with plum or strawberry jam. You can even find it with a chocolate filling, whisky cream, rosehip pulp, and on top of that: powdered sugar! If you want to order one, keep in mind that in Berlin it is called "pfannkuchen" and not "berliner'', as in the rest of Germany. It can also be called Krapfen, Kreppel, Puffel or Fasenachstkiechle.
5) WIENER SCHNITZEL
As the name suggests, it is a Viennese schnitzel. If you don't know what to eat in Berlin, this typical dish isn't so different from what is prepared in other cuisines, such as the Spanish one. It consists of meat in batter and is served with sauerkraut, baked potatoes or potato salad, another traditional delicacy. The meat can be pork, beef, chicken breast or even "soy meat". The Scheers Schnitzel restaurant on Warsawer Strasse is a must to taste this traditional delicacy!
6) POTATOES
The potato is another recurring element of German gastronomy. In the park Lustgarten, located on Museum Island, next to the Berlin Cathedral, it was the place where the Elector Juan Jorge had the first potatoes grown in the 16th century. Anyway, today in German cuisine many typical dishes are accompanied by potatoes, whether fried, mashed or as a salad. There are also potato and onion pancakes (kartoffelpuffer) and the traditional Berlin potato soup (kartoffelsuppe).
7) BEER
If you're wondering what to drink in Berlin, the Germans have a lot of beer culture. They have been preparing it for over 500 years and you may know the Berliner Weisse, the most famous in the capital. In Berlin you'll not only find small craft breweries with guided tours to visit them and learn about the brewing process, there are also the famous birgärten (beer garden), where beers are served outdoors, and beer festivals.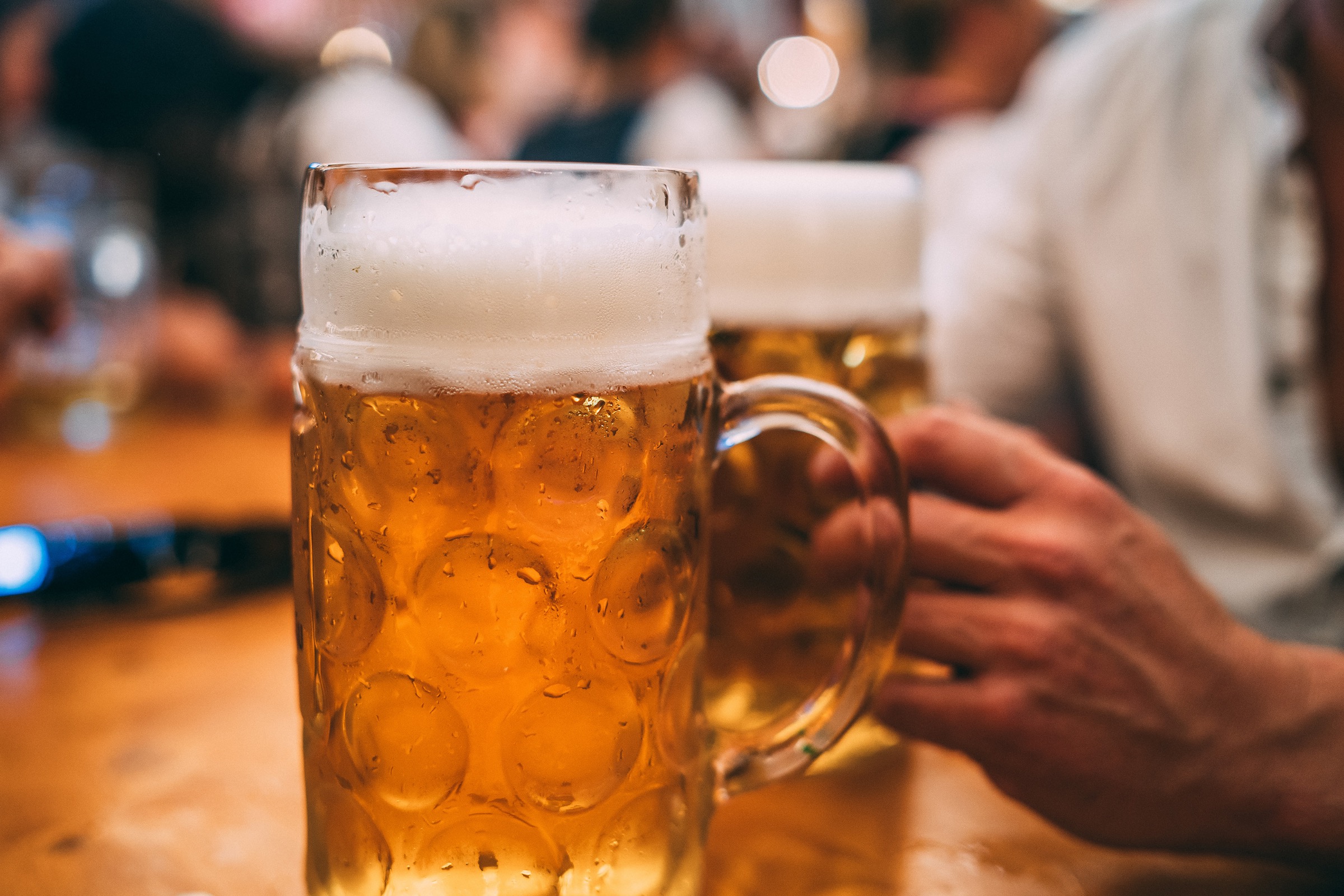 8) BIENENSTICHKUCHEN
In German it means "bee sting", which refers to the content: honey and sugar. The Bienenstichkuchen consists of two layers of dough with a buttercream or vanilla filling and on top of that a caramelized almond garnish. Some Germans like to do it with two layers. You can find this delicacy in most bakeries in Berlin.
What are the other dishes you've tried in Berlin? Share your experiences with us in the comments below!