7 Heavenly Escapes: Experience Bali's Finest Hotels with Infinity Pools
When it comes to finding an idyllic tropical paradise, Bali reigns supreme. This Indonesian island is renowned for its lush landscapes, stunning beaches, and rich cultural heritage. But what sets Bali apart as a dream destination is its array of luxurious hotels with infinity pools that offer a surreal experience, blending the boundaries between the pool and the magnificent natural surroundings. In this blog, we'll take you on a journey to explore some of the finest hotels in Bali, boasting breathtaking infinity pools, where you can immerse yourself in pure bliss.
1) Hanging Gardens of Bali:
Nestled amid the dense rainforest of Ubud, the Hanging Gardens of Bali is a jewel that epitomizes opulence and tranquility. Its iconic twin-tiered infinity pool seems to float above the treetops, granting guests a view of the Ayung River valley below. The sight is nothing short of magical, especially during sunrise and sunset. Each moment spent in this captivating oasis will leave you in awe of the beauty surrounding you.
2) Alila Villas Uluwatu:
Perched atop soaring cliffs on Bali's southern coastline, Alila Villas Uluwatu offers an unforgettable stay with its minimalist and contemporary design. The property's breathtaking infinity pool seamlessly merges with the vast expanse of the Indian Ocean, creating an illusion of swimming in the open sea. The panoramic views and the gentle ocean breeze make it an ideal spot for relaxation and rejuvenation.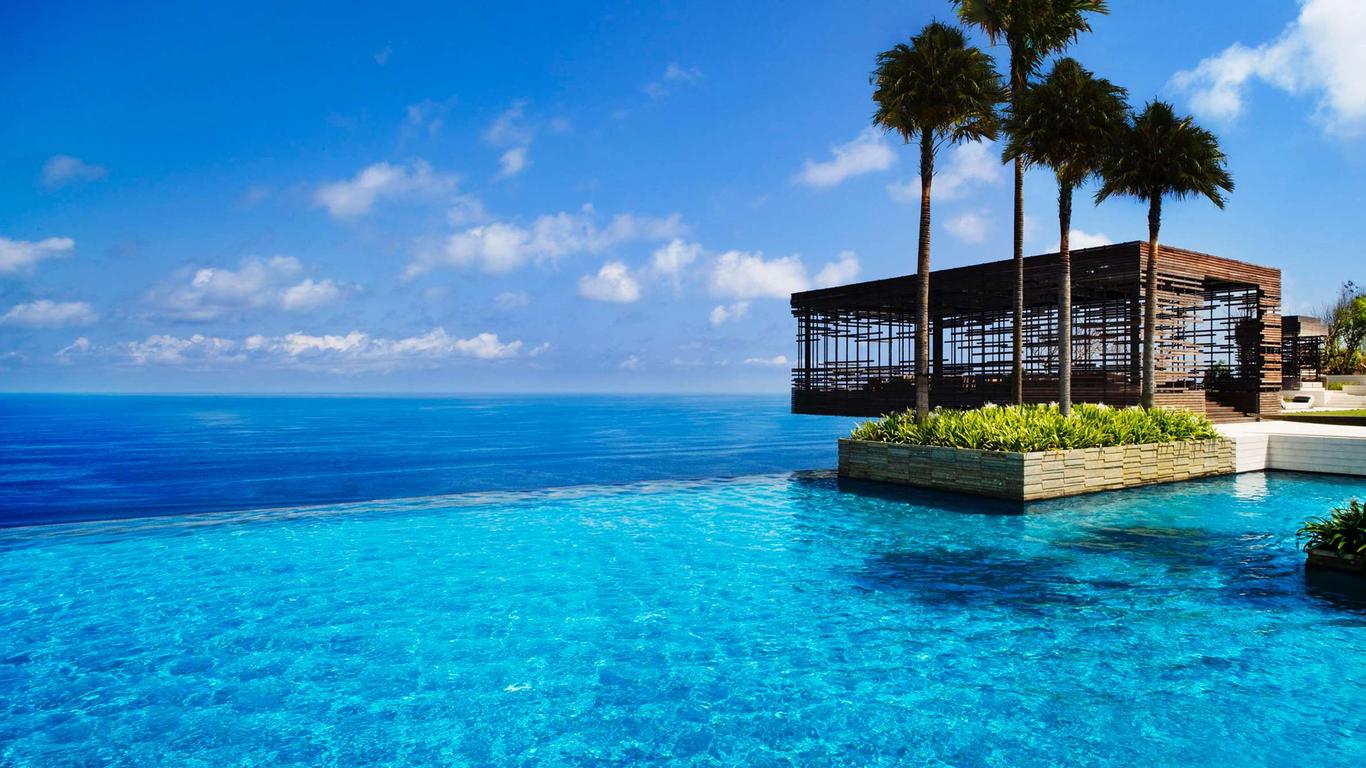 3) COMO Uma Canggu:
Situated in the trendy coastal village of Canggu, COMO Uma Canggu treats guests to a combination of beachside luxury and chic sophistication. Its infinity pool grants visitors a front-row seat to Bali's famed surf breaks, providing the perfect backdrop for surf enthusiasts and sunseekers alike. As you bask in the sun, the rhythm of the waves will lull you into a state of serenity.
4) The Edge Bali:
True to its name, The Edge Bali perches dramatically on the edge of a rugged cliff in Uluwatu, offering unparalleled vistas of the Indian Ocean. The property boasts an awe-inspiring vanishing edge pool extending into the ocean's horizon. This exclusive resort caters to those seeking privacy and seclusion, promising a luxurious retreat like no other.
5) Munduk Moding Plantation:
Escape the tourist crowds and venture into the highlands of Munduk, where the Munduk Moding Plantation awaits you. Surrounded by coffee plantations and clove trees, this boutique resort features a picturesque infinity pool overlooking the rolling hills of North Bali. It's the perfect spot to immerse yourself in nature and experience the island's tranquility.
6) The Mulia Bali:
Located on the southern coast of Nusa Dua, The Mulia Bali is a lavish beachfront resort renowned for its grandeur and sophistication. The property boasts an infinity pool that seems to spill seamlessly into the Indian Ocean. Sunbathe on the pristine sandy beach or retreat to a private cabana by the pool to relish the ultimate indulgence.
7) Ayana Resort and Spa:
Ayana Resort and Spa, perched atop rugged cliffs above Jimbaran Bay, offers a mesmerizing vista of the Indian Ocean and Bali's stunning sunset. Its Rock Bar, famous for being a unique oceanfront bar, is complemented by a chic infinity pool. Take a dip while savoring signature cocktails and witnessing the sun's fiery descent into the horizon – an experience that will forever linger in your heart.
Bali's hotels with infinity pools offer an unrivaled combination of luxury and natural beauty. These stunning oases invite you to indulge in a sensory experience celebrating the island's breathtaking landscapes. Whether you choose to float above the treetops, gaze upon the vast ocean, or witness the sun setting over the horizon, each hotel promises a unique and unforgettable stay. So, if you're seeking a heavenly escape that melds relaxation, indulgence, and natural wonders, Bali's hotels with infinity pools are waiting to welcome you with open arms.