Delicious Greek Desserts To Try
Greek desserts have one thing in common: they are drenched in thick, sweet syrup and guarantee that your sugar levels will rise within seconds but yet they are so delicious! The syrup is usually made from a mixture of honey and sugar, mixed with lemon or orange zest and flavored with cinnamon and maybe a little clove. If you're a fan of syrup, honey, butter, and nuts, you know where to head to next!
1) Gliko tou Koutaliou – Sweet On A Spoon
What's a vacation in Greece without tasty sweets? If you haven't eaten Gliko tou Koutaliou yet, you must try it the next time you are in Greece. Gliko tou Koutaliou means "sweetness on a spoon." They are simply different fruits, berries, and sometimes vegetables pickled in a delightful syrup made from honey, sugar, or syrup. As the name suggests, they are served on a teaspoon along with an ice-cold glass of water. According to legend, candies on a spoon originated when everyone was allowed to eat from the same bowl to prevent poisoning.
The type of fruit or vegetable added and served may vary depending on where one is in Greece, but common types are oranges, cherries, apricots, watermelons, sometimes stuffed nuts. Other types of spoon candy, which may be more unusual when you think of sweetness, are tomatoes, potatoes, and carrots. In Crete, for example, they are made from small almond-filled eggplants and spiced with cloves, cinnamon, and lemon juice. In Naxos, Gliko tou Koutaliou is often seasoned with basil. Other recipes are flavored with roses or lemons. In Santorini, Pomodoro tomatoes are often used, spiced with cinnamon and whole almonds.
The fruit should be firm and retain its color, and the syrup itself should be thick enough to put on a spoon. It just has to be firmer than jelly and jam. It often takes several days to make Gliko tou Koutaliou, and the result is fantastic and well worth all that time! Each family has its recipe for Gliko tou Koutaliou, which has been passed down for generations.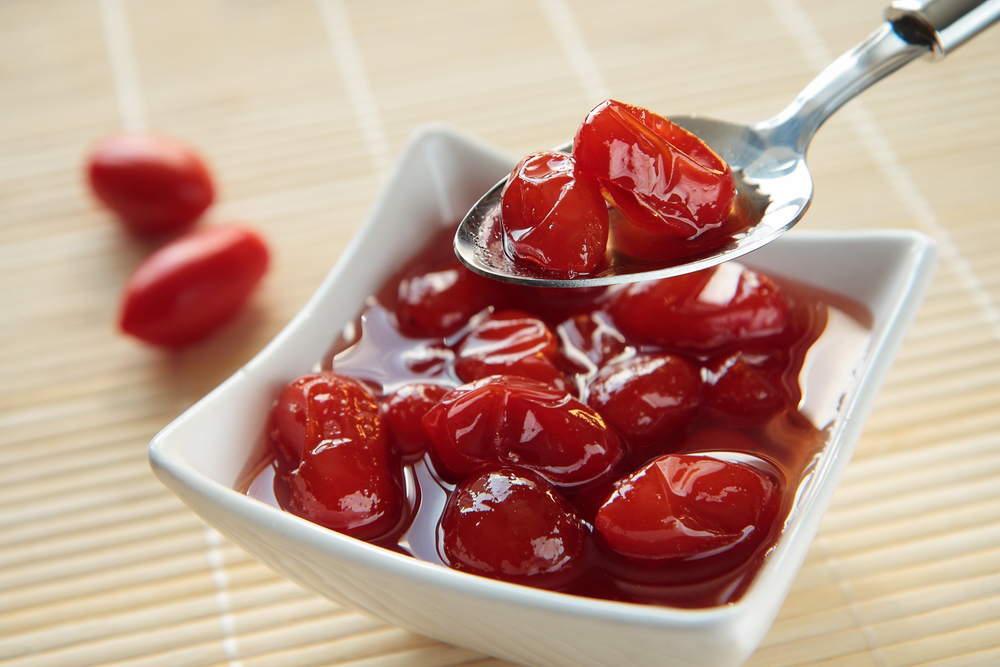 2) Baklava and Kataifi
Baklava is one of the most famous sweets in Greece and something you should try during your vacation. The sweet, sticky, and at the same time crunchy baklava consists of several layers of phyllo dough and a filling that can vary according to taste. Typical fillings are walnuts, pistachios, almonds, cinnamon. The baklava is baked in the oven and then soaked in a layer of honey, spices, sugar, and rose and orange blossom water.
Another variant of baklava is kataifi. The pastry consists of spaghetti-like threads and has the same kind of filling and layer as the baklava.
3) Greek Yogurt
Greek yogurt is impressive. Unlike Russian or Turkish yogurt, the consistency is a bit firmer, and the protein content is higher – making it a perfect snack!
Greek yogurt is perhaps most often associated with a nutritious yogurt but is also suitable as a pie filling for desserts and sweet creams. But often, the simplest is the best – Greek yogurt with fresh berries and fruits, over which you sprinkle sweet honey.
4) Fresh Fruits
In Greece, as in many other places around the Mediterranean and in the Middle East, fresh fruit is usually the final meal course. Why bother when you can just set out a big bowl of delicious fruits and a few good slices of cheese and enjoy the fresh flavors. In Greek taverns, a bowl of sliced watermelon is a common and good ending.
Buying fresh fruits in Greece is easy, and a tip is to wander the local markets and take the goodies with you. At the beginning of the vacation season, you can enjoy sweet strawberries, followed by apricots, nectarines, and peaches. In August and September, you can enjoy the delicious fresh figs. Honeydew melons and watermelons are available all summer and are both inexpensive and large.
Have you ever tried any Greek desserts?