What to Eat in Singapore: A List of the Tastiest Dishes
Singapore is a formidable city in Southeast Asia, inhabited by different races, cultures, and religions. The right mix of traditions, folklore, and technology, but especially the tropical climate, has made it one of the most popular vacation destinations in recent years.
Besides the many things to do and see, there is also excellent cuisine here. The Singaporean cuisine, spicey and tasty at the same time, is the fruit of the union of Malay, Indonesian, Indian, Chinese and Peranakan cuisine, with other influences of British and Portuguese. With its unique and substantial dishes, always enriched with new products, this cuisine is one of the world's most popular.
Among the different dishes that Singaporean cuisine offers, here are the most typical to try:

1) Hainanese Chicken Rice
The national dish, Hainanese chicken rice, is prepared with only two ingredients. The recipe requires the rice to be cooked in the broth in which the chicken was previously prepared, perhaps by adding a little ginger to the flavor and some sauce to dip the chicken. The name of this dish perfectly suggests its origin; Hainan is a province of southern China.

2) Laksa
A very popular dish is laksa. It is a slightly spicy soup made with rice noodles, chicken, shrimps, eggs, and coconut milk, but of course, the recipe has many variations. You can also order it with vegetables or tofu. In Singapore, laksa Katong is very popular, where not the ingredients change but the noodles used, thicker and even sliced.

3) Roti Prata
Roti prata is served to accompany many dishes based on mushrooms, eggs, meat, fish, curry, or vegetables. Some people also consume it in the sweet version with red beans, chocolate, and banana.

4) Chilli Crab
A dish invented in the mid-1950s, chili crab, is a whole crab cooked in a pan with a tomato sauce and chili, but not particularly spicy. To taste it at its best, accompany it with bread.

5) Kaya Toast
Particularly popular in Singapore, the kaya toast is also sold in various fast food chains. These are two thick slices of bread lightly buttered and smeared with kaya, a jam made from eggs, sugar, coconut milk, and a mixture of pandan leaves. These toasts are generally served with scrambled or boiled eggs, but some people love the sweet-salty contrast and ask for it with soy sauce.

6) Nasi Lemak
It has a unique flavor, and not everyone likes it, but nasi lemak deserves to be tasted. It is a rice-based dish, cooked with coconut milk and assembled with a banana leaf and anchovies, chili, cucumbers, and omelets. You can try it for lunch and dinner, and if you don't like it, you can always order something else.

Desserts
If you want to enjoy something sweet in Singapore, choose a good drink, fresh fruit, or a light and refreshing dessert, especially to face the humid heat.

1) Durian
Durian is also very well known, an exceptional fruit in its appearance and its "smell." Round and covered with thorns (durian means "thorny fruit"), its smell is so pungent that it is even forbidden to take it with you on public transport. Unbelievable, isn't it? It will also surprise you to know that, contrary to what we just said, the taste is good.

2) Pandan Cake
The Padan Cake is a cake made of Padan leaves, a plant that is particularly widespread here. Like a soft sponge cake, the Padan Cake is characterized by its bright green color (due to the leaves' chlorophyll) and is most often consumed as a snack.

3) Ice Kacang
The 'Ice Kacang' is the granita made with ice cream and sweet syrup, enriched in palm seeds, corn, red beans flavor, and jelly cubes.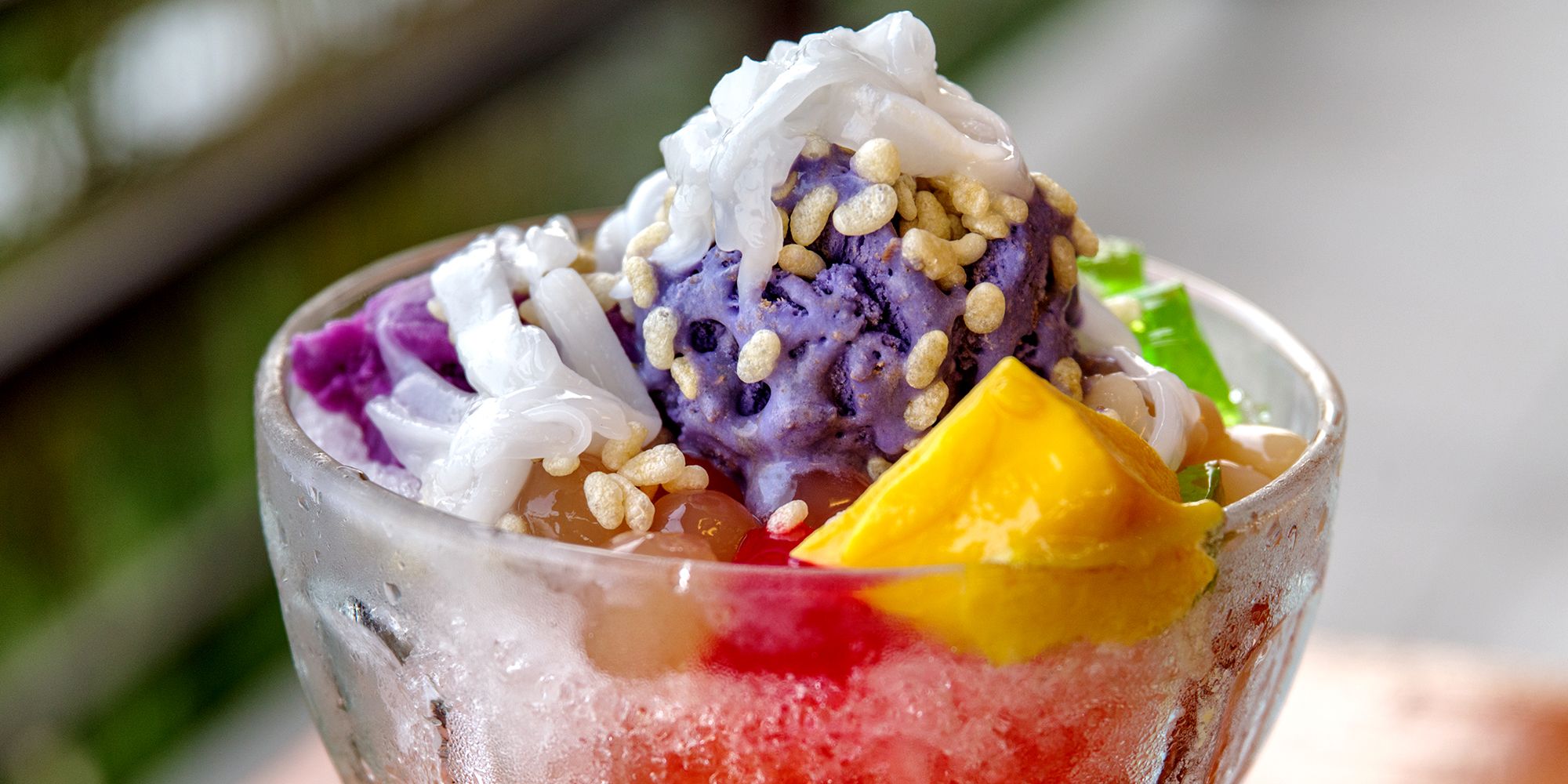 Have you ever tasted any of these delicious dishes? Share your experience with us in the comments below!